Bard Early College New Orleans seeks to work in collaboration with parents, guardians and caretakers as partners throughout their early college experience. Just as our faculty are experts in their fields, we know that families are the experts in knowing their students and how to best meet their academic needs. As a collegiate institution, we will approach students first with information regarding academic progress. Because we know that BECNO families are excellent advocates and resources for students, we also welcome and encourage parent and family communication. In addition to special events and BECNO happenings, families of students can also expect to hear from BECNO faculty if a student is at risk of failing a course. It is the family's responsibility to provide Bard administration with up-to-date contact information.
Additionally, BECNO hosts ​Family-Professor Conferences​ once a semester for parents and families to talk with their students' professors and receive updates on academic progress at the midterm point of the semester. We encourage students to join families and faculty in these discussions as they are a great way to celebrate successes, talk openly about any challenges experienced in the course and plan for a successful second-half of the semester. Parents and families with additional questions about student progress can contact our office at 504-439-0122. For a full list of BECNO office staff and a guide on who to contact, our "Contact Us" page.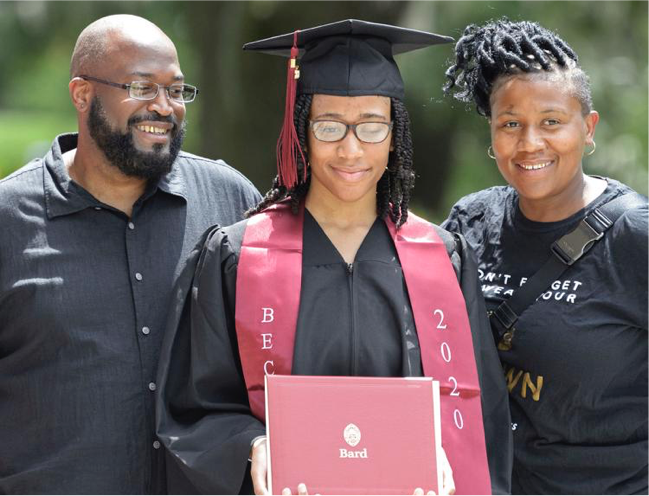 Financial Support
Bard Early College New Orleans is part of a national network of public, tuition-free early colleges led by Bard College. To keep you and your student informed and engaged with this work, we would like to be able to send you communications from time to time such as newsletters, special event invitations, or calls for volunteers. To opt-in to communications from the Bard Early College Network, please click here.
Make a Gift
To provide a robust college course of study, BECNO depends on generous financial support in addition to the resources made available by our public school partners. Please consider a gift of any amount today. Gifts may be directed to:
Bard Early College New Orleans
The Bard Early College Fund, our annual fund where your gift is allocated to wherever the institution needs it most.
For information on additional ways to make a gift, visit here.
100% of your gift, made through our partner Bard College, supports Bard Early College.
COVID-19 Needs
Gifts to the Remote Learning and Teaching Fund ensure BHSEC can respond adeptly to the most urgent operational needs resulting from the COVID-19 pandemic. Current efforts include providing technology – laptops and wireless access devices – to BHSEC students and families in financial need. Learn more about the Remote Learning and Teaching Fund and make a gift here.