A message from Executive Director, Ana María Caldwell
Our community has demonstrated time and time again our resilience, brilliance and ability to adjust in the face of uncertainty. As we continue to grapple with the sequels of COVID-19, we have come closer as a community, we have demonstrated to each other that we belong in this Bard space, and we have persevered.
Our courses will continue to be online throughout the Spring semester. We are hopeful that with access to vaccination we will be able to host courses in person in the fall semester.
The importance of social distancing cannot be overstated. This is applicable to all members of the Bard Early College in New Orleans community. The failure to practice social distancing spreads the virus and then the infected person unknowingly may pass it on to someone who is more vulnerable.
Starting March 1st, Bard students who attend Douglass High School who have indicated a desire to return to campus will be able to do so Monday through Thursday. Bard will be able to offer structure, tutoring, and college advisory in person. Classes will all continue to be online. We wish we could extend this service to our entire campus community. Unfortunately, due to logistical restrains this will not be possible.
Please remember to consult our Remote Coursework FAQ and COVID-19 Community Handbook documents.
I leave you with our values which feel especially relevant right now:
Excellence
We are committed to excellence and we will continue to abide by that standard as we develop and refine our remote education plan. We know what Bard students are capable of and we will ensure that they are getting engaging material as they continue their early college education. We ask our students to be committed and engaged and we ask families to support them in making this happen.
Growth
We recognize this is new to all of us. We know that in order to achieve our goals in the face of a new challenge we need to rely on each other, we need to accept that we don't always have all the answers, and we need to be ready to be comfortable with changing, with tweaking, with rearranging. We ask our students and families to join us in this process, to reach out if you need anything, and to give yourselves grace as there is going to be a period of adjustment.
Teamwork
It is our priority to maintain a sense of community, to stay connected and to support each other.
Meet our staff and faculty this semester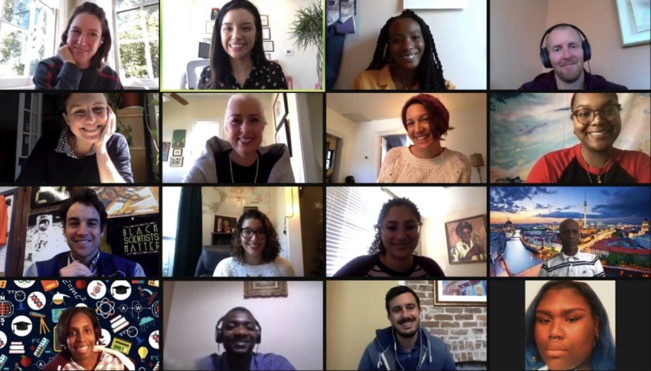 Contact information
Alice Kracke [email protected]
Ana María Caldwell [email protected]
Ben Saxton [email protected]
Brooke Duncan [email protected]
Candace Colbert [email protected]
Daniel Dzah [email protected]
Francisca Oyogoa [email protected]
Jamie Irish [email protected]
Jessie Morgan-Owens [email protected]
Julia Carey Arendell [email protected]
Justin Lamb [email protected]
Kelley Crawford [email protected]
Kiara Oyola [email protected]
Kierra Price [email protected]
Margo Montgomery-Richardson [email protected]
Nemesio Gil [email protected]
Steffie Hernandez [email protected]